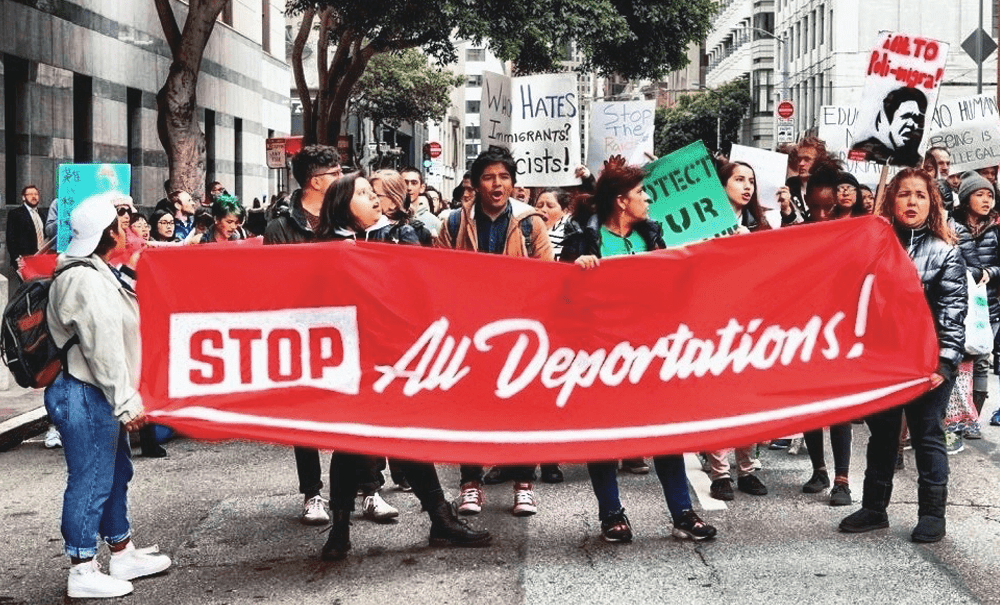 Dear friends, 
Greetings to you, as late summer nights grow cool and as we approach the seventh month of living in pandemic times. Mutual Aid Disaster Relief (MADR), a group that promotes communities' ability to collectively meet their own needs during a disaster, observes that a crisis generates love. MADR writes, simply, "We want that love to last." How? How to sustain the new forms of collective care, the new connections, and community-based power that are being built during our ongoing crisis? How to make our solidarities solid? We want them to last.
Newsletter highlights:
Title 42 and the Expulsion of MIgrants during the Pandemic

Chhaya Fights for Immigrant Power   
1. ICE At Work in a Pandemic: Expulsions at the Southwest Border
As the nation stumbled toward Labor Day—with over 180,000 COVID deaths, Congress on vacation as federal emergency aid programs terminated, protesters killed by an armed militia member in the streets of Kenosha, California in flames due to climate change-induced wildfires, and a growing number of states and cities facing economic insolvency—the US government did successfully conduct one piece of business: a nationwide sweep of 2000 immigrants arrested by ICE. The operation included 83 ICE arrests in New York State, including undocumented immigrants targeted for the sole 'crime' of crossing the border.
The largest nationwide ICE raid carried out during the pandemic, the arrests join up with another bold move by ICE to keep America safe: the detention of migrant children in major hotel chains—Econo Lodge, Best Western, Hampton Inn—before expulsion from the US. Working in a "largely unregulated shadow system of detention and swift expulsions," border security during the pandemic has been contracted out to a private company, MVM Inc., founded by three Secret Service agents in the 1970s and now under contract with ICE. At least 860 migrants, mostly children, have been held by ICE in hotel 'detentions' carried out by MVM. 
The detained children and families, some of them seeking asylum, and supposedly protected under national and international refugee and human rights laws, are on track to be expelled as 'public health threats' under a little-known power in the CDC public health code. Invoked in March 2020 by the Trump regime, Title 42 of the U.S. Code is being cynically deployed to permit the expulsion of anybody crossing the Mexico border, even if they seek asylum or refuge. Called "an unprecedented and unlawful invocation of the Public Health Service Act" by the ACLU, Title 42 has so far authorized over 147,000 expulsions by US Border Patrol at the US-Mexico border during the pandemic.
Starting in March, border agents were given explicit instruction to "return" migrants to Mexico without any of the legal proceedings or protections to which they are normally entitled. For the first time in the 40 years since the passage of the 1980 Refugee Act, people entering the US seeking refuge from harm in their country of origin are being returned, rapidly and without recourse, to that harm. Migrant children waiting to be expelled may find themselves housed at Econo Lodge or Quality Inn under the unregulated gaze of a private security and transport company run by ex-Secret Service agents. Welcome to the weaponization of CDC public health codes that, in the words of Human Rights First, are being wielded "as the ultimate tool to shut down the border to people seeking refuge."
WHAT CAN WE DO?
2. Chhaya: Services, Tools, Fighting for Power
I believe everything starts with economic and housing justice. —Chhaya Executive Director Annetta Seecharan
Walking down 77th Street between Roosevelt and 37th Avenue, you're likely to notice a second-floor office that's a beehive of activity. Sometimes people even gather outside, socially-distanced, as they wait for their appointments. The office belongs to Chhaya, a multifaceted community organization based in Jackson Heights and Richmond Hill.
Chhaya Community Development Corporation "builds the power, housing stability and economic well-being of South Asians and Indo-Caribbean communities in New York City." For over 20 years they've done this through an impressive range of programs and campaigns, led by dozens of paid staff and a small army of volunteers.
Chhaya insists that housing is a human right. They sponsor programs for first-time homebuyers, foreclosure prevention, and tenant advocacy. They formed the City's first Bangladeshi Tenant Union. They oppose gentrification. And they are fighting for a series of tenant protection laws.
Chhaya has worked for many years to develop a trailblazing campaign to upgrade, rezone and legalize basement apartments—something that could be a big improvement for both low-income tenants and small landlords. (It's estimated that Queens currently has tens of thousands of illicit basement apartments.) BASE (Basement Apartments Safe for Everyone) has evolved into a broad coalition. After years of struggle, and after winning the support of several progressive politicians, BASE was poised to unfold a key pilot program in East New York this year. Nine homeowners had already been approved for renovations, out of thousands who were eligible. However, city budget cuts caused by Covid-19 suddenly pulled the rug out from under the project. Advocates are now fighting to restore funding:
The virus is exposing the desperate need for safe spaces for vulnerable populations who need to socially distance. It's now more important than ever to help modernize and bring up to code informal basement apartment units, where living conditions may put people at risk of disease transmission. —BASE and Coalition for Affordable Housing, April 2020
Housing is just one aspect of Chhaya's work. They offer financial counseling, Lending Circles (which enable pooling of savings based on cultural traditions), financial education workshops, a small business program, and free tax preparation for community members. Chhaya is conducting a campaign to start "public banks"—community banks owned by the government and accountable to the people. 
Chhaya also fights for immigrant rights and opportunities. They are part of a growing coalition pushing for the extension of voting rights to all immigrants with legal status in New York. They provide free legal services for immigrants, ESOL classes, and a program known as Pragati, which "empowers South Asian and Indo-Caribbean cis-women, trans-women, and non-binary individuals who are looking to enter the workforce…or pursue new opportunities." 
The coronavirus pandemic has forced Chhaya to redirect much of its activism. The group's counselors continue to offer many services remotely. But as Annetta Seecharan says, "right now, we've pivoted to focusing on fundamental COVID-19 relief work like cash and food distribution. We're also working hard to elevate the concerns of immigrant-led small businesses." Chhaya is part of the Coalition for Excluded NYers, demanding funds for immigrants who were systematically left out of the federal stimulus package and enhanced unemployment insurance. They advocate suspending rent, mortgages and utility payments, and a full moratorium on evictions and foreclosures during the crisis. Chhaya partnered with local South Asian restaurants to deliver food to Elmhurst Hospital workers—resulting in a recent award for Small Business Program Manager Shrima Pandey from the Hospital's Volunteer Department.
WHAT CAN WE DO?
Support Chhaya and the coalition behind

One City, One Vote

to extend municipal voting rights to immigrants

If you are financially able, consider

donating

to support Chhaya's work.
In solidarity and with collective care,
Jackson Heights Immigrant Solidarity Network
Follow @JHSolidarity on Facebook and twitter and share this newsletter with friends, families, neighbors, networks, and colleagues so they can subscribe and receive news from JHISN.